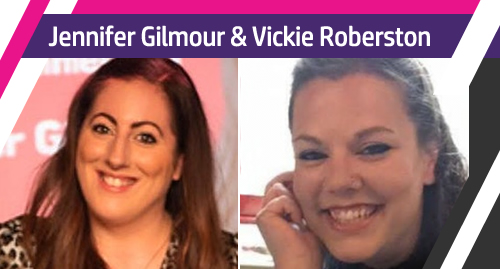 Join Jennifer and Vickie as they come together virtually to share their experiences of domestic abuse and steps through recovery.
Raising awareness through their individual and powerful stories. There will be a chance to ask questions and the session will last an hour.
Half of the profits will be going to Kaleidoscopic UK.
WHERE: Online Virtual Event held Zoom
WHEN: 15th JUNE 2021
TIME: 13:00 – 14:00 BST
COST: £10
Please click on the eventbrite link to purchase tickets or contact us on kaleidoscopicuk@gmail.com
Jennifer Gilmour: Author, Advocate & Founder of #AbuseTalk
Jennifer Gilmour is an author and advocate for women in abusive relationships, using her own experiences of domestic abuse as a catalyst to bring awareness and to help others. Jennifer has published two publications, Isolation Junction and Clipped Wings which have both been Amazon Best Sellers and received awards. Jennifer speaks at events across the UK and continues to raise awareness through her blog posts, public speaking, radio interviews and social media.
Jennifer has listened to her readers and has grown a digital community to support discussions around domestic abuse online. Starting with her Twitter Chat which opened late 2017 #AbuseTalk, this developed into an online forum in 2018. In 2019, Jennifer launched a podcast which include interviews with those in the sector and gives followers the opportunity to ask burning questions.
Most Informative Blogger Award 2018 (Bloggers Bash Annual Awards)
UK & European Award for using Social Media for Good 2019 (Social Day: Social Media Marketing Awards)
Jennifer says: "Together we are Louder".
Vickie Robertson: Founder of Kaleidoscopic UK
Child and adult domestic abuse survivor and advocate. Vickie has endured a life of abuse, which started in early childhood, this resulted in her being removed from her mother.
2 years after leaving her last abuser which was a cycle that lasted over a decade Vickie was the first to petition for training in the family court system having experienced both the family and criminal courts as a result of domestic abuse. Seeing the huge gap between them she wanted to change the system for the better. She is currently petitioning to go further than training with their IDVA pilot.
Vickie founded Kaleidoscopic UK in 2019 which is an organisation of survivors for survivors. They provide open ended support groups throughout the survivor journey. Uniquely survivor led and without threshold. Also designing prevention/liberation programme's for all affected by domestic abuse delivered through the eyes of survivors.
Vickie wants to further educate all so that no one else ends up in the same cycle as her and professional services are better equipped to support survivors. "It takes a village to raise a family and a community to recover from abuse"
"By working together with survivor's, officials, other charities and grass route organisations we stand a chance of eradicating abuse by education".
Kaleidoscopic UK
We are an organisation of domestic abuse survivors for survivors providing open ended free support that is confidential and Independent. We run 2 support groups for women who are or who have experienced any form of domestic abuse. Child groups starting from April 2020 in the Wokingham area with plans to expand further. We provide a rolling 6- week Liberation programme for those who have experienced any form of abuse to learn the cycle they were in and how to prevent returning to it.
We believe survivor led regular support is essential throughout a survivor journey, being there when needed with no limit, allowing survivors to dip in and out when they wish is vital to ongoing recovery as is being independent.
We are designing prevention programmes that will be accessible for services or individuals to further educate about the signs, symptoms, and realities of abuse through the eyes of survivors. This will Include best practice approaches for early intervention whilst empowering them with education and knowledge with useful tools to prevent any abusive situation or relationships. Enabling people to reach out for help without judgement, embarrassment or fear as early as possible with support available.
We will raise awareness of all abuse types, the bruises you can't see are ones that can last a lifetime. Removing the taboo is essential as is highlighting many people are falling through the gaps of current services due to not meeting thresholds or only having short term interventions.
The response to abuse is vital from the outset, with insight from survivor's services and collaborations we could improve responses and support for all.
Hidden abuse exists and thrives in silence, a silence and a cycle that we MUST break together as a community. Children are often the forgotten survivors of abuse yet the cycle can and does continue without the correct intervention, support and can effect mental health for many years. Little to no support is currently available for children of abuse. This HAS to change as does prevention work or else we are all part of keeping that cycle of abuse going.